Beauty, education, and business may seem like completely different industries, but Wenie Argonza works in all three fields as an entrepreneur and the founder and head instructor of Argonza Aesthetics Training Center, also known as Argonza Aesthetics and Dermopigmentation Academy in their social media platforms. We spoke to Wenie about how she started her business from the ground up and how the academy equips students with the right industry and entrepreneurial skills to begin their own business ventures.
Diving into beauty and education
Prior to founding Argonza Aesthetics, Wenie Argonza has done and experienced many things throughout her career. As a mass communications graduate, she has worked with several radio broadcasting stations, advertising agencies, and even dived into the BPO industry in the Philippines. Over time, however, she began to question where her passion truly lies. Alongside her husband who was running a successful business as a supplier in the food industry, Wenie began to look into starting her own business as well. In doing so, she made it a point that her business would involve something that she was passionate about, because to her, running a business can be difficult without having passion for your service.
That's when she found her passion, or rather, passions: beauty and teaching. Wenie was already passionate about beauty, viewing it as a means for self-confidence and empowerment. Mixing her interest in the beauty industry with her enthusiasm for learning and teaching, she began to undergo trainings from different parts of the world--from South Korea, Singapore, and Malaysia to Italy, France, The Netherlands, Germany, and Russia, constantly learning about new techniques in aesthetics and dermopigmentation.
---
Wenie as one of the judges for an international body art contest in South Korea.
---
Before officially opening her own training center, Wenie made sure to have her modules and courses CPD-accredited, so that students will be internationally certified and recognized in the beauty industry after they finish their courses. Now, almost 9 years into the business, Argonza Aesthetics Training Center provides CPD-accredited beauty-related training courses through the Argonza Aesthetics and Dermopigmentation Academy. The academy currently offers the following CPD-accredited courses: facial clinic with laser science course, semi-permanent makeup course, semi-permanent eyelash course, and nail spa and nail art business course. 
A holistic teaching approach
Argonza Aesthetics not only focuses on helping students hone and master their skills for their practice but also puts an emphasis on entrepreneurial proficiency. Once a course is completed, the academy guarantees that students will know how to properly run their own businesses. "We want our students to succeed, and for that to be possible, they also need business skills," Wenie said. Important business aspects are covered in every course--from knowing the initial costs of starting a business to learning how to properly and sufficiently price certain services. 
Ultimately, the training academy's goal is to equip students not only with technical beauty industry skills, but also entrepreneurial intelligence that will allow them to start their own businesses. "In this way, we're applying a more holistic approach with our courses," Wenie said.
Thinking ahead
As strict lockdown protocols followed after the height of the COVID-19 pandemic, many businesses temporarily halted operations. Most had to make adjustments by moving their businesses into the virtual space. Argonza Aesthetics Training Center, however, didn't encounter many difficulties when it came to operating remotely. Wenie shared that the training center already had plans to hold online classes and the lockdowns only sped things up--instead of starting online classes in 2021, the academy started offering virtual classes in 2020, with theoretical lectures and step-by-step video processes held through Zoom and Google Meet. Of course, face-to-face sessions for demonstrations are still needed, so hands-on training is still conducted through careful and strategic scheduling.
---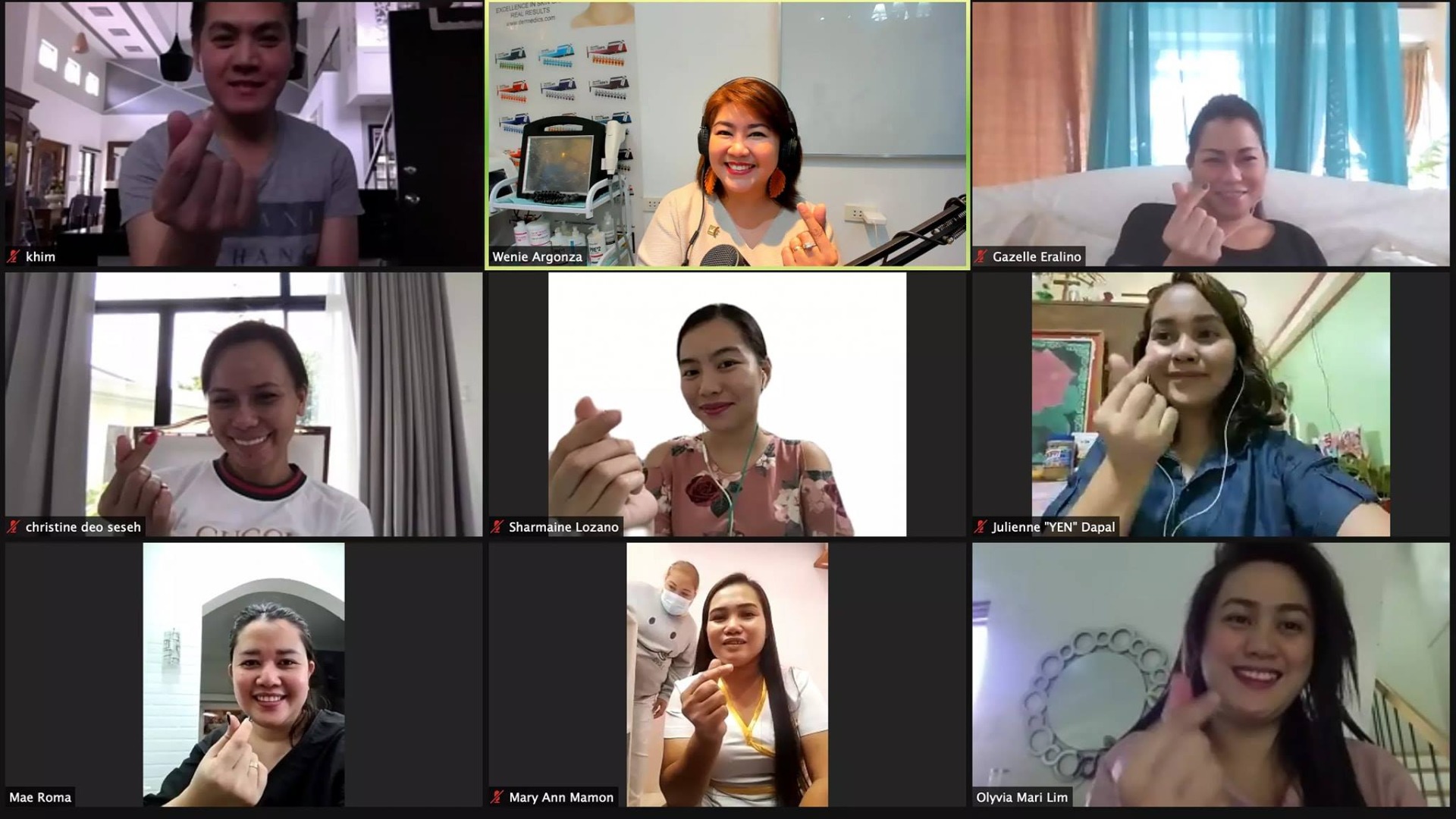 Wenie and her students during a virtual discussion (left) and a hands-on training session (right).
---
The smooth transition to remote training can be credited to Wenie's observation skills and ability to think ahead. She shared that since 2018, she had already started to acquire the equipment needed to hold online classes because she observed the growing trend of streaming and virtual conferences through social media. "I saw the massive appeal of social media, and figured that we can also transition to conducting online trainings in the future. When the lockdown started, I can say that I was almost 50-75% ready because I had all the things I needed. And now, here we are!"
Connecting with students through JazzyPay
With the academy's POS terminal application still in process with a local bank, Argonza Aesthetics Training Center had no means to accept cashless payments, until a client who wanted to undergo training but could only pay through credit card installments suggested that they try out JazzyPay as an online payment gateway system. "As you can imagine, during the pandemic, most people are strapped for cash, and if there's a way that they can buy or purchase through a credit card, they will do it," Wenie shared. "So I submitted our application, got approved immediately, and it really was a big help".
---
Aside from diversifying the academy's payment methods and being able to cater to interested clients who prefer to pay for trainings through credit cards, Argonza Aesthetics is now also able to easily collect payments from their students overseas--may it be students from Papua New Guinea, Paraguay, or The United States. Now, connecting with students is much more hassle-free through digital payments!
---
Interested in enrolling in Argonza Aesthetics Training Center's courses? Learn more about their training programs and check out testimonies from students by visiting their website or their Facebook page at @argonzaaesthetics and pay for your training online using JazzyPay! 
You may also follow and listen to Wenie's podcast to know more about her beautypreneur journey.