If you ask Dr. Jiger Funtera of D'Dental Center about when he finds the most joy when doing his job, he'd say it's when he sees their patients smile. A simple thing, but for a clinic that has been around for 25 years, the philosophy of prioritizing patients' satisfaction has been one of the reasons why the clinic is still up and running until now, even during the pandemic. We had the privilege of interviewing Dr. Jiger to tell us more about D'Dental Center and how they manage to be the most trusted dental clinic within their community.
For the community
To the regular patients of D'Dental Center, a dental clinic specializing in cosmetic dentistry and orthodontics, the clinic is immediately the go-to place for their dental health needs, as the clinic has been around for more than 25 years. Started by Dr. Jiger's mother, Dra. Crisanta Ducay, the clinic has been a household name to many residents of Molino, Bacoor. However, like many businesses, the clinic found itself immobilized due to the pandemic, especially during the first few months after lockdowns were imposed.
At the time, they were heavily contemplating to close down the clinic as things definitely weren't easy--aside from the possible health risks from operating during the pandemic, patients were strikingly fewer, and they also had to invest in new equipment to ensure safety in the clinic. However, they ultimately decided to continue running the clinic for their community. "My mom, she's like the only known dentist in our area, so really, the main reason we opened again was because of the community," Dr. Jiger recalled. "It was a big decision for us to make because the investment of buying new equipment is like getting a new clinic."
---
D'Dental Center's treatment area (left) and the treatment area when the medical-grade UV light is activated.
---
Dr. Jiger, who then had plans of acquiring his own clinic, decided to take over D'Dental Center's operations when they reopened in the middle of the pandemic. Although taking charge of a clinic happened sooner than he planned because of the pandemic, there is no doubt that he's truly the perfect person for the job. He faced the challenges brought about by the pandemic head-on, making much-needed adjustments to the clinic's system and operations to ensure the safety of both their staff and their patients. 
Finding new ways to adapt
Upon re-opening the clinic after the restrictions for business operations were lifted, Dr. Jiger immediately realized that there were things that they had to do differently to adapt to the current situation. He found out that even though patients wanted to see them for their dental health needs, they were still afraid of the risks that came with going outside, especially since dental procedures required close interaction between the patient and the doctor. 
"May one time, nag-open kami, everything was prepared, but walang pumuntang patient. Walang lumabas ng bahay kasi takot sila," Dr. Jiger recalled.
("There was one time when we opened, everything was prepared, but no patient came to visit. They don't go out because they're scared.")
"I used to bump into our patients when running errands, and they tell me that they really needed to visit the clinic but they're afraid to go outside. Especially since the clinic is very prone to the virus because people have to remove their masks--and I found that that's the ultimate thing that we had to address--make our patients aware that the clinic is safe."
---
Dr. Jiger and Dr. Cris working before (left) and during (right) the pandemic.
---
Prior to the pandemic, the clinic heavily relied on attending to walk-in patients. Now, to ensure safety for both doctors, staff, and patients, a strict appointment-based process has been implemented. Aside from this, Dr. Jiger also made their services available beyond the clinic. He began to do online consultations even after office hours just to educate patients who want to consult them as soon as possible. "I did online consultations at night to educate them and also brief them on what we are going to do in the clinic before and after the procedure. That way, they're properly informed." Dr. Jiger said. 
Being a creative in the dental health industry
To students finding their passion and future career paths, shifting courses is always a hard decision to make, and it's all the more difficult if the studies in question are on extremely different parts of the spectrum. From being a communication arts student, Dr. Jiger made the decision to shift courses and study dentistry instead, following his family's advice. "It was a difficult moment for me, but I did it for the people I loved," he said. 
However, Dr. Jiger realized that he could still exercise his passion for media arts even as a dentist. "Now that I've taken over my mother's clinic, I realized that I can still apply the things I want to do when it comes to the clinic. The things I used to do as a communication arts student—from advertising to making marketing content and materials—I still get to do them while running the clinic." he shared. 
True enough, upon taking over the clinic, Dr. Jiger found ways to keep the clinic afloat with the skills he gained from being a previous communication arts student. He started to create advertisements and marketing content for the clinic to keep their regular patients engaged and up to date with the clinic's schedule, updates, and new policies during the pandemic. At the same time, by actively promoting their services through social media, the clinic was also able to gain new patients. "I think the biggest thing that happened was hindi lang yung community namin yung nakaka-visit sa dental clinic, there are those na galing pa sa malayo na dinadayo pa kami, because of the online platforms." Dr. Jiger shared.
("I think the biggest thing that happened was that it was not only patients from our community who visit the clinic, but also those who live quite far and got to know about us because of the online platforms.")
Patients first, always
There are many things that Dr. Jiger learned from his mother who ran the clinic for 25 years, but one thing that stood out to him was the importance of building relationships with their patients. To every person in D'Dental Center, this means treating patients like family. 
"We make sure that our patients feel comfortable and safe in our hands. Everyone in the clinic welcomes our patients warmly, especially since we know that some of them tend to be shy about their situation," Dr. Jiger said. "Aside from this, we make them feel that they can trust us by always treating them according to what they need. No sugarcoating, and we don't add things that are not necessary."
---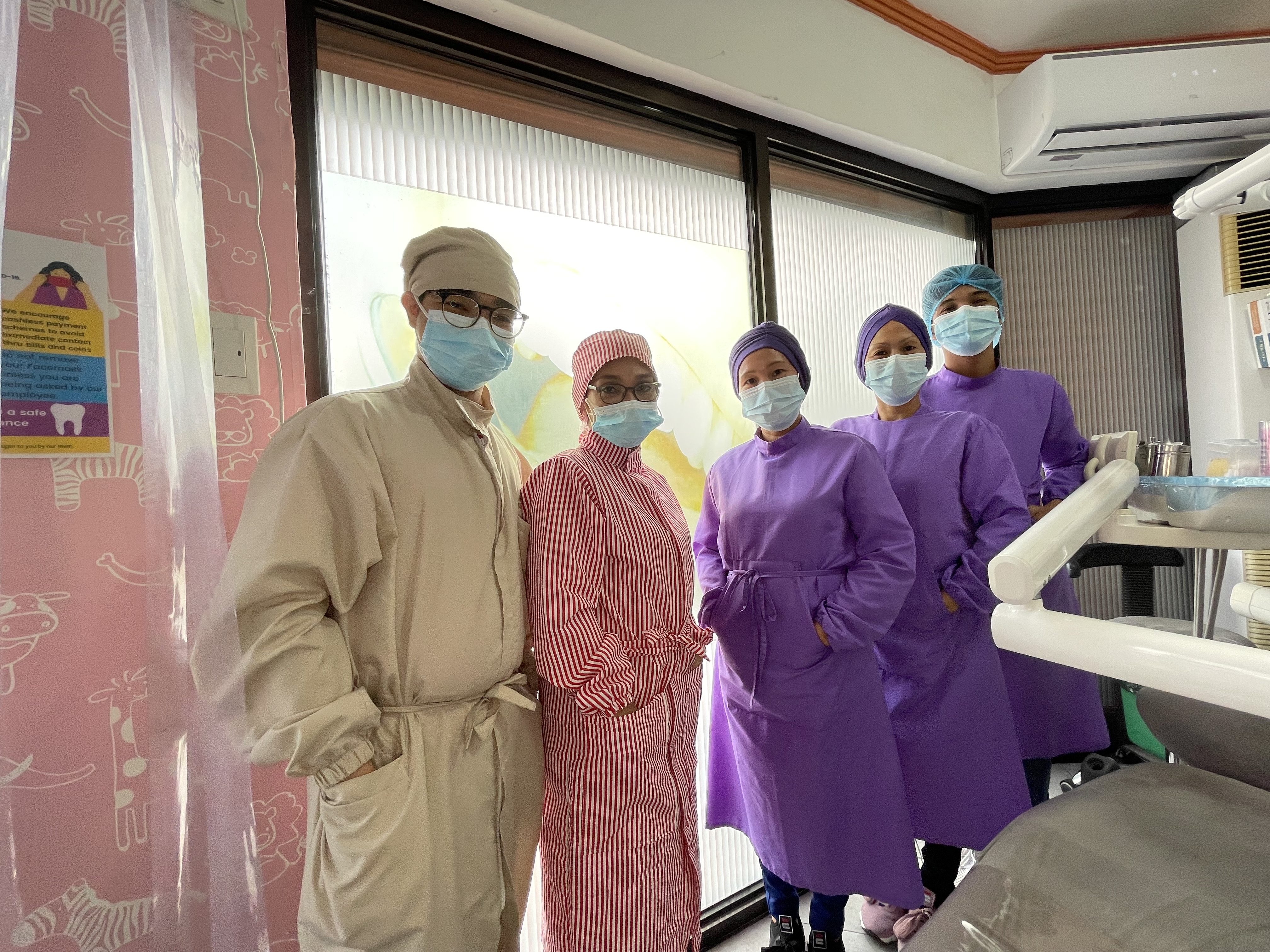 The D'Dental Center team—ready to give you your best smile!
---
While maintaining the clinic's values of treating all patients with love and care, it's not impossible to assume that the clinic will continue on for another 25 years or even longer. When asked about his and D'Dental Center's staff's biggest strength, Dr. Jiger credited their sense of purpose and their heart to learn. "We know our purpose—to give patients a good smile even if it's behind their masks, to make them feel comfortable with themselves. And number two, we have the heart to learn. We always improve to give our patients a great and comfortable experience."
Forging ahead with JazzyPay
While simply browsing online, Dr. Jiger came to find out about JazzyPay. Being an online payment gateway system for all types of businesses, he immediately thought about how the service could help the clinic in terms of digital payments and invoicing, especially since they were in the process of improving and modernizing every possible process in the clinic to adapt to the situation brought about by the pandemic.
"My favorite part about JazzyPay is that patients can pay in advance because we can request payments," Dr. Jiger said, pertaining to JazzyPay's invoicing feature. Aside from the convenience it brings to both parties, Dr. Jiger also highlights how the payment process assures patients that their transactions are secure. "I actually had a patient who experienced having their card details copied by an establishment's staff member, so we're very wary of the risks that come with card transactions. But with JazzyPay, our patients can pay without handing us their card. They can either scan our QR code or pay through the website, which is very secure." He said that the same patient was pleasantly surprised when they didn't have to ask for her card to proceed with the payment. 
Today, D'Dental Center's clients can continue to experience a safe and secure payment process with their preferred payment method--whether it be credit or debit cards, online banking, e-wallet, or over-the-counter cash deposit.
---
Sounds like the perfect service for your dental health needs? Book an appointment with Dr. Jiger Funtera now through their Facebook page @DDentalCenterph and expect to receive only the best treatment! You can also easily pay online for your appointment or operations through JazzyPay here or by typing in "D' Dental Center" in the JazzyPay home page's search box.